By Glen
It's only been a week since The Airborne Toxic Event's fall tour reached its end, and already Mikel Jollett is wondering what to do with himself.
In which the pace of life slows to a crawl and the musicians ask themselves, "what exactly do I DO all day?"

— Mikel Jollett (@Mikel_Jollett) November 12, 2014
Indeed, it's amazing how quickly things went quiet after the last note was played. With the band's holiday shows still about a month away, we've entered a period of waiting and wondering when the Dope Machines release date will be announced. If Mikel's hint that it will be late January or early February proves correct, one would think we'll hear something sooner than later. In the meantime, there are still some items of interest to consider.
Lights, Camera, Action

The video shoot for The Airborne Toxic Event's single "Wrong" took place on Nov. 7 in Denver, and included a daytime shoot with pre-selected fans, as well as concert footage at that night's tour-closing gig at the Ogden Theatre. Details of the first portion of the shoot have been hard to come by, save for the photo of drummer Daren Taylor seen here, and a since-deleted tweet from one of the participants, asking the band if they would sign his blindfold from the video shoot.
The filming that evening was more than just a straightforward live action shoot. After opening the show with "Welcome to Your Wedding Day," the band paused to allow a closed door to be brought on stage and the video crew to get into position. After a brief delay, Mikel explained that he was going to open the door, revealing a camera behind the door, shooting the crowd through the entryway. As the door opened, the crowd was to lose their shit. They happily complied, and with that crucial shot in the can, the show resumed with the performance of "Wrong."
Hopefully we won't have to wait long to see the results!
What's Wrong, Mikel?

For the past three months, there have been two questions on the lips of almost everyone who's interacted with Mikel – both media and fans alike: what happened with Noah, and what's with the change in musical direction?
It seems he's said about all he has to say on both topics. Out of respect for Noah, the band has agreed to keep private the reasons for his departure. And with Mikel having already explained himself on a number of occasions with regards to the musical shift, it appears that he's running out of patience for answering the same question ad nauseum. And really, who can blame him?
Towards the end of the tour, the front man took to introducing "Wrong" with a defiant declaration: "A lot of people have been asking if we're a rock band, or a folk band, or an electronic band. The answer is, 'Fuck off!'" It rubbed some people the wrong way, but don't expect an apology to be forthcoming. If anything, Mikel seems bewildered that anyone would be surprised that an artist would want to explore different avenues of expression.
Just yesterday, he took to Twitter for one of his patented streams-of-consciousness:
In which the protagonist becomes a set piece, and the set is revealed to be a mere dream sequence, and the narrative becomes incoherent. Had a conversation today about the change in direction: you ever get to a point in your life where you say: fuck it, burn it down. It's time to move, time to change, time become something new–something you've already been for a long time in your heart. And you think: well, people might not understand. So you're just resigned and content to be just as fucking weird on the outside as you've always known you are on the inside.
These are the words of a man with no regrets. It seems the change is not calculated so much as it is representative of an external realignment to an internal reality that has been brewing for a long time. Artistic integrity demands that he follow where the muse leads, expectations be damned. This time, it led to electronica. Next time, it may lead to polka. Regardless, for those who can stomach the ride, it will be a fascinating, exhilarating journey.
In a recent interview with the Aspen Times, Mikel provided yet more detail on where TATE is headed:
I basically just locked myself in a house in Silverlake for a year and wrote and wrote and recorded and recorded. I used a lot of different sounds and a different approach – a lot of keyboards and destroyed sounds and beats… It's highly rhythmic, and parts of it are just weird… I've been thinking about it in terms of scoring – almost like scoring a film – where things come in and out and nothing makes sense in any chronological way, but that makes sense in terms of the sound… I'd say it's more aesthetics. I was interested in expanding our musical vocabulary to include things beyond two guitars, a bass, a violin and some drums…
Whether or not this sounds like your cup of tea, TATE fans had best get used to it. This is our band – at least until the next incarnation, which is probably lurking just beyond the horizon, if history is any indication.
Stream TATE's McCartney Cover

While we await Dope Machines, we can all add another TATE tune to our collection this Tuesday when The Art of McCartney hits store shelves. Airborne's lovely take on "No More Lonely Nights" can be heard now by jumping to the 1:47:57 mark in the video below.
Blast from the Past

Speaking of old songs (well, not as old as McCartney), Julie unearthed a real gem recently when she stumbled across a Sonic Bids page that TATE set up once upon a time. The music page includes all four songs that were found on the two versions of The Airborne Toxic Event's original demo EP ("Papillon," "Does This Mean You're Moving On?," "The Girls in Their Summer Dresses" and "Wishing Well"), along with something neither of us knew existed: a demo recording of the unreleased track "April is the Cruelest Month." Vastly superior to the live recording that can be found on YouTube, it's like digging up a time capsule and cracking it open to find a piece of TATE history. Check it out.
On the Road… Again

No sooner does the tour come to an end than the band starts announcing new dates. Another Christmas show with Bush has been added, this one in Charlotte, NC on Dec. 15. Furthermore, the 2015 calendar has its first two dates blocked off, as TATE will play St. Petersburg and Pompano Beach, Florida, Feb. 21-22 as part of the Coastline Festival.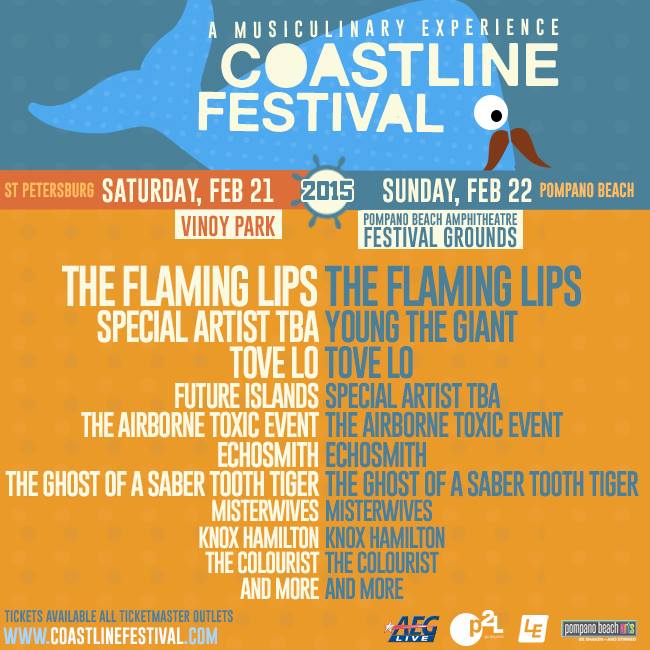 Just a Fan?
One of our favorite TATE writers, Colleen posted another thoughtful piece this week on her blog, These Stunning Ruins. In "Just a Fan," she ponders what it means to be just another face in the crowd at an Airborne Toxic Event show – even if that face tends to stand out thanks to the bloody bird emblazoned on it.
That's a Wrap

As we close the books on a fall tour that was epic in every way, we round up the last of the show reviews and photo galleries.
And finally, stretching way back to the summer, Victoria Music Scene presents a number of videos from The Airborne Toxic Event's set at Rifflandia Festival.
A Personal Update

Before we close for another week, a brief update from the hospital ward where I type this in a darkened room. I continue to be flabbergasted by the support and well wishes pouring in from our little TATE community. Thank you all for your thoughtfulness, concern and generosity to our family. We are now a week and a half into our daughter's chemo regimen, and are slowly becoming accustomed to our new reality that includes constant shuttling between home and hospital, while trying to keep too many other balls from dropping. Becca is doing as well as can be expected; she's proving to be a real trooper and her courage is challenging us every day. Our first real indication of how things are going will come in three or four days, when she undergoes a bone marrow scan. Here's hoping we have good news to report soon!
Toxic Gold

We leave you with one of Julie's videos from The Fillmore residency: the first (and, so far, only) live performance of "The Way Home" – a song that signals Mikel's need for the change of direction that is now happening.
Glen is the founder and editor of This Is Nowhere. He's grateful for an understanding wife and kids who indulge his silly compulsion to chase a band all over the Pacific Northwest (and occasionally beyond) every time the opportunity arises.