By Glen
Just three more Toxicity's till the release of The Airborne Toxic Event's Dope Machines, and things are heating up right on schedule…
One Time Thing

One week ago, "One Time Thing" was just a name on a track list scrawled in sharpie. Since then, it's been performed twice in concert, teased in a series of short Instagram clips, released to the early adopters who have pre-ordered TATE's latest offering – and become a fast favorite of many fans.
Though I'm firmly in the "I love it" camp, upon first listen late Monday night, I really expected that "One Time Thing" would receive mixed reviews from long-time TATE fans who've been apprehensive about the new sounds the band is exploring. So it's been a pleasant surprise to see the overwhelmingly positive response amongst the Airborne community – much more so than for lead single "Wrong," as evidenced by the comment thread on the latter's YouTube page.
If you haven't yet heard the new track, here it is. Let us know what you think in the comments!
Get Yer Dope Machines

If you've been procrastinating on buying the album on cd, or thinking of only getting it digitally, here's something that may change your mind: Newbury Comics is pre-selling a limited quantity of copies autographed by the band.
Meanwhile, in case you missed it, there were some hiccups with the iTunes and Amazon
digital pre-sales. An incorrect version of the album was initially posted on both sites, resulting in all early pre-orders being cancelled when the sites pulled down the wrong version and added the correct one to their stores. So, you might want to double-check your pre-orders listing, just to confirm that you're still good to go.
We're still waiting for Dope Machines to make its way into TATE's own merchandise store. I've held off buying the vinyl elsewhere in hopes that they'll be selling autographed copies. Stay tuned…
Dopest. Cookies. Ever.

The Airborne Toxic Baker wasn't about to let the occasion of a new album release pass without turning it into a cookie – or rather, a whole set of them. Susan meticulously traced Mikel Jollett's handwritten track list announcement to create these treats, which were then hand-delivered to The Man himself.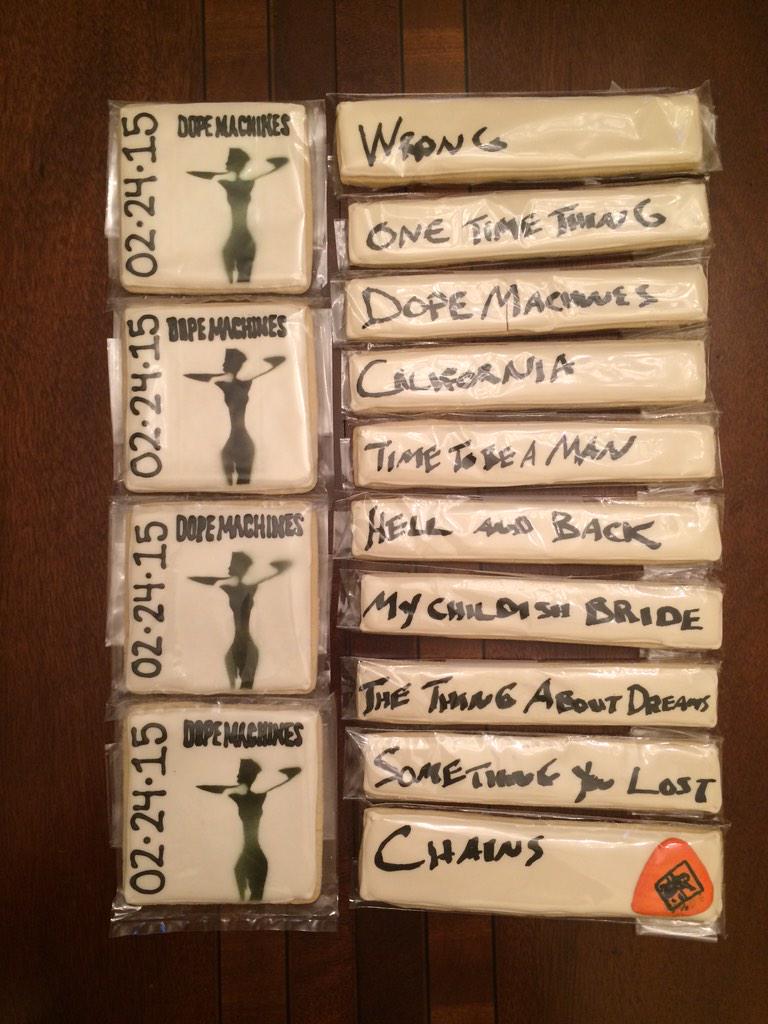 I have it on good authority that there may be some similar TATEy treats in store for one lucky This Is Nowhere reader in the not-too-distant future, so be sure to stay with us as release day approaches!
Charity Shows Captured

With the release date for Dope Machines coming so quickly on the heels of The Airborne Toxic Event's major fall tour, there are uncharacteristically few live performances happening around the big day. In fact, with Florida's Coastline Festival having been cancelled, the band's last two scheduled performances prior to the album dropping both took place last weekend, in Los Angeles and Vancouver. Fortunately for those who love their band photography, a pair of exceptional photographers captured the goings on: Ryan in L.A. and Jenn in Vancouver.
Coming Soon to C'Bus

One piece of good news on the show front, as Columbus' CD 102.5 announced that Airborne will headline CD102.5 Day Side B on Saturday, April 4. They even nabbed Mikel to say a few words about the upcoming gig.
Toxic Gold

Finally, Vancouver radio station The Peak FM caught Mikel in a jovial mood a few minutes before The Airborne Toxic Event took the stage in Vancouver Saturday night.
Glen is the founder and editor of This Is Nowhere. He's grateful for an understanding wife and kids who indulge his silly compulsion to chase a band all over the Pacific Northwest (and occasionally beyond) every time the opportunity arises.